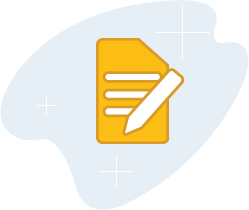 If you're working on completing a master's or doctoral degree, your thesis or dissertation is one of the most important documents you'll ever write. It's essential that you put your best foot forward so you can impress your advisor and launch the next step of your academic career. That means trusting one of our professional thesis and dissertation proofreaders to focus on the time-consuming details for you.
Our proofreaders will proofread your proposal, thesis, or dissertation for spelling, grammar, punctuation, and capitalization; edit it for sentence structure, clarity, and consistency; leave helpful comments and suggestions; and ensure your project adheres perfectly to APA, MLA, Chicago Manual of Style, CSE, IEEE, Blue Book, or another specialized writing and citation style.
What you'll receive from our service;
A document that has been proofread and edited line by line for spelling, grammar, punctuation, and capitalization
Substantial editing including improved sentence structure, sentence clarity, word choice, and consistency of the appropriate academic writing style (e.g., APA, MLA, Chicago Manual of Style, CSE, IEEE, Blue Book)
Adherence to custom style guides, formatting guides, or templates
Helpful, personalized commentary and suggestions to help you improve your writing and strengthen and streamline your arguments
Tracked revisions and comments so that you can see and review all of the changes we make to your work
For Microsoft Word submissions, we will also provide you with an additional version of your document with all of our changes accepted and implemented into the document for you, for your convenience
Live customer service seven days a week to answer your questions
The ability to meet rush turnaround times
What can we help you with?
Theses
Dissertations
Capstone projects
Thesis, dissertation, and capstone proposals
Literary reviews
In-text citations, footnotes, endnotes, references, works cited pages, bibliographies
What document formats do we accept?
Word documents/PDFs: We accept Word documents or PDFs and will make revisions and comments within your document.
We guarantee privacy for all of our clients; your materials and personal information will remain confidential. No matter the complexity of your thesis or dissertation subject matter, our editors can handle the high-level, field-specific jargon and parameters for science, medicine, humanities, religion, art, and more. We offer a 100% customer satisfaction guarantee.
Please call us at 888-833-8385 or send us an email to sales@proofreadingpal.com to get a custom quote today!
To get us started on your proofreading project, choose your desired turnaround speed above or click here to get an instant quick quote.
Get Instant Quote