3 Warnings for Using a Thesaurus
November 21, 2020
by ProofreadingPal
in Editing Tools
It's a general rule that the more powerful a tool, the more damage you can do with it. Used correctly, the thesaurus can be really powerful. Used incorrectly, it can make you look like a big ole dummy.
In a follow-up to 3 Tips for Using a Thesaurus, here are three warnings, one for each type of user.
In my teaching and editing experience, there are three basic thesaurus user types: EFLs, native speakers who feel their vocabulary is limited and want to "sound smart," and people who actually know what they're doing with this literary version of a loaded gun.
English as a Foreign Language Users
If you're learning English, the thesaurus can be a great way to expand your knowledge of vocabulary, but you have to be careful.
Let's take a look at a typical thesaurus list of choices (synonyms) for a really simple word: blue.
Azure
Cobalt
Navy
Sapphire
Cerulean
Indigo
So far, so good, but . . .
Lewd
Moral (as in "blue laws")
Depressed
Hopeful (as in "blue skies")
Aligned with the US Democratic Party
Edited (as in "blue penciled")
Loyal (as in "true blue")
Vigilance, perseverance, and justice (as symbolized in the flag)
Slightly off pitch (as in "blue note")
Superior (as in "blue ribbon")
Unexpected (as in "out of the blue")
There are more, but we get the point.
So it's essential as an EFL writer that you carefully read through the definitions of the various words to the point that you can see the patterns of usage. A good thesaurus will give you categories such as antonyms (opposites) and figurative or metaphorical synonyms, as will even a basic dictionary. A sign that you need to be extra careful is that the different synonyms the thesaurus offers seem to vary wildly in meaning.
Native Speakers Looking to "Smart Up" Their Diction
Whereas EFLs need to pay attention to the wildly divergent denotations, native speakers must pay attention to connotation.
There's little danger that a native English speaker is going to use "adult rated" when they're just trying to indicate the color blue, but carelessly using a thesaurus might mean swapping out things like the following:
Important/Essential (one means it's of note; the other means something cannot happen without it)
Interpretation/Exegesis (the second one primarily deals with scripture)
Characteristic/Representative (the first can just be an odd quirk; the other means the thing being discussed reflects a greater whole)
The tip to avoid this downfall is simple: only use words from a thesaurus that you already know well. I don't mean you've heard it before. I mean you've used it in conversation (and you weren't stared at).
Bear in mind that if two words in the English language absolutely meant the same thing, we'd stop using one of them. There are connotative differences between "big" and "large" (e.g., a big man in town, a large man in town) and between "fan" and "fanatic" (even though originally "fan" was just short for "fanatic"). Where I live, different words for rain all indicate highly different types of rain:
Downpour
Shower
Sprinkle
Thunderstorm
Sleet
Mist
Drizzle
Torrent
Deluge
Squall
Pissing
Washout
Pelting down
Never let a thesaurus lead you outside your personal knowledge and comfort zone.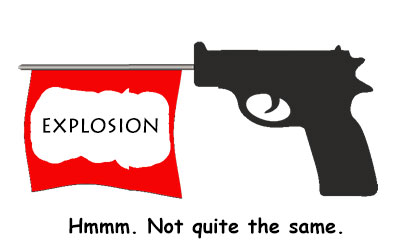 Skilled Users
Yes, even those who know the right way to use a thesaurus (which is to find a word you already know but can't think of at the moment, that word right on the tip of your tongue) can fall victim to thesaurus overuse.
As Kate noticed in that earlier post: "Adding variety to your writing keeps it fresh and engaging for the reader; seeing the same word repeated too often in too short a space causes readers to gloss over and start skimming."
Absolutely true, but don't forget moderation. We can start with this sentence:
People need to realize that not all people view people's rights the same way because people have different needs and circumstances when dealing with other people, particularly when it comes to what people own and what people can do with their lives.
OK, that's too many uses of "people." A little time with a thesaurus can help us change it up a bit:
People need to realize that not everyone views human rights the same way because individuals have different needs and circumstances when dealing with others, particularly when it comes to what people own and what everyone can do with their lives.
But this can go too far:
People need to realize that not everyone views human rights the same way because individuals have different needs and circumstances when dealing with others, particularly when it comes to what the populace owns and what folks can do with their lives.
"Populace"? "Folks"? A little repetition is fine and much better than going through every synonym available like some sort of linguistic version of "Tag, you're it."
If a thesaurus makes your writing sound like you're consciously choosing big or unusual words, you're using it wrong. Too much repetition is bad because it's distracting; too much variety can do the same thing.
So remember:
EFL: know your definitions.
Native Speakers: know your connotation; stay in your comfort zone.
Savvy Users: don't get carried away.
Peter Mark Roget wrote that he meant his thesaurus to be a "helping hand" for the writer, not a crutch.
Julia H.