The Writer's Bookshelf
March 28, 2020
by ProofreadingPal
in Editing Tools
As I write this in March 2020, there's a pandemic encircling the world. In an effort to slow the spread of illness, many Americans are isolated in their homes. Students and office workers are setting up remote workspaces; other idled employees are looking to hunker down with a good book until this all blows over.
The written word, accordingly, is having a comeback. Oral presentations will be rejiggered as term papers. Even in the age of videoconferencing, many meetings will be replaced by emails and white papers. Others will use their time housebound to dash off a few poems or perhaps start that novel they've always meant to write.
Get a free sample proofread and edit for your document.
Two professional proofreaders will proofread and edit your document.
Friends, I've been there.
As a freelance writer and editor who works from a home office, I am in some ways ahead of the curve. I know the importance of setting up a home office and filling it with good books. We keep a well-stocked family library, but there are a few key volumes that I keep right within reach.
On my work desk (an old closet door laid across two file cabinets in a corner of my basement), nestled between racks of jazz and blues CDs, you'll find the tools of my trade.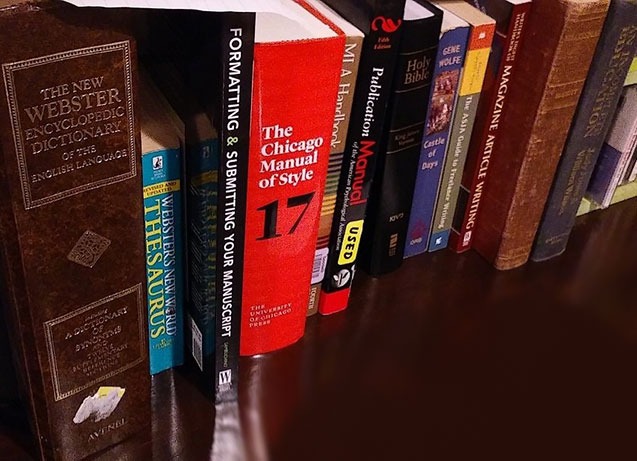 Now let's break down the contents of my toolbox.
A Good Dictionary
ProofreadingPal contractors all use Merriam-Webster's New Collegiate Dictionary as our default. As often as not, I'll use the online version for convenience, but I like having a physical copy to hand, particularly when I grow curious about the origin of a word. I keep a thesaurus handy, too, for those moments (all too common) when I can't think of quite the right word, or when I simply want to mix things up.
A General Style Guide
Indispensable for pros, helpful even for casual writers, a style guide's purpose is to resolve uncertainty. Is it "USA," or "U.S.A."? "Mother in law," or "mother-in-law"? Should "Massachusetts" be abbreviated "MA," or "Mass."? A style guide will answer these and a multitude of other questions. The Chicago Manual of Style is probably most useful for a general audience; it's the default at ProofreadingPal, and in book and magazine publishing, as well as in academia. The Associated Press Stylebook, by contrast, is standard in print (and increasingly web) journalism.
Specialized Style Guides
These clarify matters not addressed in Chicago or AP. For academic writing, your subject area will determine the appropriate style guide.
• Social sciences: Publications Manual of the American Psychological Association (APA)
• Literature and media studies: Modern Language Association (MLA) Handbook
• Hard sciences: Scientific Style and Format, published by the Council of Science Editors (CSE).
A few other useful style books for nonfiction and creative writing:
• Business writing: The Gregg Reference Manual (William Sabin, editor)
• Book-length manuals and book proposals: Formatting & Submitting Your Manuscript (by Chuck Sambuchino, editor)
• Magazine articles: The Writer's Digest Handbook of Magazine Article Writing (Michelle Ruberg, editor).
A Selection of Reference Works
I keep my King James Bible and a single-volume Shakespeare handy for verifying quotes, and An Incomplete Education (Judy Jones and William Wilson, editors) is a delightful compendium of general knowledge and trivia. If I'm stuck on the distinction between a parson and a vicar or run across one of those terms I feel I should know but don't quite (e.g., "Keynesian," "Holy Roman Empire," "pointillism"), that's the one I grab.
Finally, no writer's bookshelf is complete without The Elements of Style, by William Strunk Jr. and E.B. White. Everybody—everybody who's written a decent line of English prose since about 1940, anyway—swears by this one. It's a rare classic that really is as good everyone says it is, the best and most concise grammar-and-usage guidebook around. It offers no laughs, no tears, no Transitive Vampire-style hi jinks, but man, does it deliver the goods.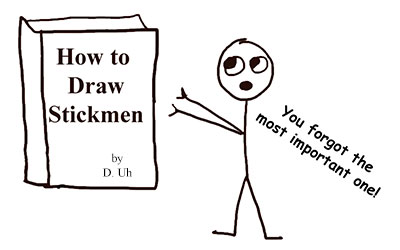 These books are all updated occasionally, and ideally you'll want the newest editions. Those updates are not particularly frequent, though, and you can often find secondhand copies of the latest editions in thrift shops or online retailers for just a couple of bucks.
However and wherever you find them, the right books can help improve your writing and make your home office a happier, more productive place. Looking through that King Jimmy on my desk, I find this passage in Proverbs 23: "Through wisdom is a house built, and by understanding it is established: And by knowledge shall the chambers be filled with all precious and pleasant riches."
If we've got to be housebound for a while, a house of knowledge is not such a bad place to be stuck.
Jack F.
Get a free sample proofread and edit for your document.
Two professional proofreaders will proofread and edit your document.