ESL/EFL Guide to English Essay Writing
July 1, 2015
by ProofreadingPal
in Essays
Expressing yourself effectively in writing is a challenge for most people, but for non-native speakers of English, the task can be much harder. If you have a rapidly approaching due date for an essay in English and are thinking of running the other way, take a minute to let ProofreadingPal show you some of our resources to help you prepare for the challenge.
Essay Format
First, make sure you understand what an English composition should look like when done well. Depending on your native language, the expectations might be slightly—or very— different from expectations for a good paper in English. A typical essay in English begins with a premise and moves directly to show why that premise is correct. It has three sections: an introduction, body, and conclusion.
Get a free sample proofread and edit for your document.
Two professional proofreaders will proofread and edit your document.
The introduction begins with a hook of some sort to catch the reader's interest, makes the premise clear, and then progresses to the thesis (the main argument) of the essay. The body of the essay consists of a number of paragraphs offering support of the thesis, and the conclusion summarizes the main points of the body and restates the thesis in (hopefully) a new and stimulating way.
Styles
Another thing when writing a paper in English is that there are specific writing styles, including The Manual of the American Psychological Association (APA), The Handbook of the Modern Language Association (MLA), and The Chicago Manual of Style are the most common in America, but there are many others. The choice (made by your instructor or publisher) will affect your finished product's format and even some word usage. Finally, if your paper involves the use of outside sources, you must cite them according to that chosen style.
Prewriting
Once you have a handle on the expectations for your task, following an organized process will help you move ahead quickly and efficiently. It's time to do some brainstorming; bullet lists, flow charts, and outlines are a few types of prewriting many people find useful to generate a thesis and supporting arguments and organize the final paper. Although you are writing a paper in English, some people prefer to do their prewriting in their native language because prewriting is all about getting your creative juices flowing, and, depending on your English skills, writing in English may slow your flow.
First Draft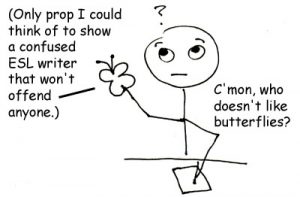 After your paper's ideas are mapped out, it's time to write a draft of your paper. Some people prefer to write in their native language and then translate it to English, but many people (including me) feel it's better to do all of your drafts in English. Translating from your native language to English can introduce a lot of mistakes into your paper, as you may attempt to take expressions and translate them word-for-word, despite the fact that many expressions translate in more unpredictable ways. This can lead to awkward phrasing and wordiness.
As you are writing your first draft, try not to get caught up on the details; focus instead on flow, making clear arguments, and transitioning logically from one idea to the next.
Feedback
When you've got a reasonably complete draft of your paper done, seek feedback on your paper to make sure you're on the right track. Ideally, this feedback should come from your professor, but your university's writing center or even a friend can provide meaningful feedback as well. Set up a meeting to discuss the feedback, if you can, so you can ask questions.
Final Draft
Last, write a final draft. Follow the style guide, the assignment description, and the feedback you got, and spend some time on all the details or grammar and style. This is a good time to check that your tone is appropriately formal.
Editing
Before turning in your paper, get your paper professionally proofread. (Not sure it's ready for an editor? Look here.) Make sure you get a good service that will show your changes and do more than just check your spelling and grammar. The service should check for accuracy and clarity, help with your sentence structure, warn you about potential plagiarism, point out issues with basic logic, and welcome rush projects if that deadline is too close for comfort. (Naturally, we do all that and more at ProofreadingPal.)
I'll get into some specifics of grammar and mechanical concerns in writing for non-native speakers of English in Part 2.
Sarah P.
Get a free sample proofread and edit for your document.
Two professional proofreaders will proofread and edit your document.
Save