Tips to Help Children Write Better
August 29, 2020
by ProofreadingPal
in Writing Guides
With school having started already some places and about to start in others, many parents and caregivers are faced with the challenge of needing to be more actively involved in their children's education than ever.
Aside from the fact that it's often difficult to shift from the parenting to the teaching role, there's the matter of content. We can't all be specialists in everything, and just knowing how to write or do math is not a guarantee of being able to teach the related processes. At ProofreadingPal, it is our job to help people improve their writing, and in today's post, I'll offer some tips to help you help your children as well.
First—and this applies to helping kids in all content areas—think of yourself as an assistant writing coach. Your child's teacher will be the head coach, and you can offer support as needed. This takes some of the pressure off you to "be an expert" in writing pedagogy.
Make sure also to avoid being the player in this process; your child is the player. Avoid the temptation to help too much or even write an assignment yourself. (This happens more than you might think, as parents may find it easier to do an assignment for a child than to help with it.)
Get a free sample proofread and edit for your document.
Two professional proofreaders will proofread and edit your document.
Get Your Child to Own the Assignment
If your child asks help with an assignment, as an assistant coach, the most important first step is for you to know the expectations for writing at your child's grade level. If you don't already have one, ask your child's teacher for a sample of good writing at that level to help you know what to look for.
Next, help your child understand the assignment. Start by asking your child about the instructions and what their final product should look like. Look at the teacher's explanation as needed, and point out that re-reading instructions is often needed.
Brainstorm
One area writers of all ages struggle with is coming up with an idea. If your child is stuck, you can help quite by talking to them to get their mental wheels turning. Let your child guide the conversation; ask a few leading questions rather than spouting off numerous ideas that seem right to you. An idea needs to feel right to an author, so even if something sounds perfect to you, your child needs to feel the same to get it done.
Have your child write down each idea they think of them and avoid rejecting any idea too soon; often a so-so idea turns into a good one with a little more thought.
Writing Is a Process
Help your child understand that the first draft need not be perfect or the length of the final assignment. Explain a first draft is just the start.
Once a draft is done, your child should take a break. Putting away a draft helps very much with the next parts of revising, editing, and proofreading.
The best way to continue is for the author to read their writing aloud or at least slowly themselves. Often, writers hear mistakes and awkwardness they don't notice when they just scan the page with their eyes. Avoid the temptation to check your child's work before they have checked it themselves. It is usually appropriate to do a final quick proofread for your child, but again, don't take it too far. Let your child be the player.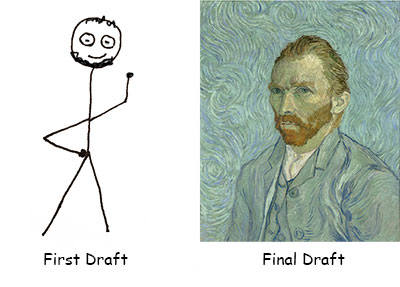 If it occurred to you that making sure you understand the assignment, coming up with a good idea, not worrying about the details on the first draft, and doing some good editing and revising to make for an improved final draft are the main steps of the writing process, good job! To coach anyone, including your kids, you must guide them as they follow the necessary steps of the process, which children may often neglect, reject, or forget.
Use Your Own Experience
Beyond helping with assignments, you can help them become better writers by modelling writing yourself and talking about how writing is part of your life. Encourage your children to engage in writing beyond the curriculum. Journaling; writing letters, emails, notes, and writing fiction just for fun are good activities to do in free time.
Try to personalize suggestions you offer. If your child loves Garfield, they might enjoy writing a letter to Jim Davis. (They might get a response; my son did!) Try to encourage writing by hand as well as typing on a keyboard if it makes them more comfortable and slows down the process.
Make sure to point out interesting expressions you encounter and errors you notice in the writing around you; the latter makes for interesting real-life examples of why learning to write well is important. You might not be a grammar expert, but it can be helpful to even discuss what a complete sentence is to get your children in the habit of noticing the details within writing. Advertising is full of errors, so it often offers a great idea of what not do.
As the school year begins, make sure to be patient with your children and yourself. And for further tips on writing and editing that will help you continue to be better writers and writing coaches, come back to the Proofreading Pulse blog for future posts!
Sarah P.
Get a free sample proofread and edit for your document.
Two professional proofreaders will proofread and edit your document.